I remember reciting (horribly) the "Ballad of Fa Mulan" in Chinese Language school when I was little- I only know the beginning (jick, jick foo jick jick?). But I thought it was badass that Mulan defied expectations of being a women.
When I saw that Disney was making an animation from that, I was so excited and I connected with it even more when they showed how Mulan was quirky, clumsy, bad at memorizing as well! She was not a model minority (or majority… depending). She had the same struggles of respecting her parents but also doing her own thing but also not knowing what to do!
But this 2020 remake of Disney's Mulan, none of that… super disappointing.
First, yes, boycott! I support HK fight for democracy.
Secondly, there are no songs (we knew that), no comedic relief, and a lot of written and directed by white folks! And because of that the story spoke to no one.
HIRE ASIAN-AMERICAN BEHIND THE SCENES TOO!!
ANYWAY, I was lucky enough to watch it for free and talk about it with my friends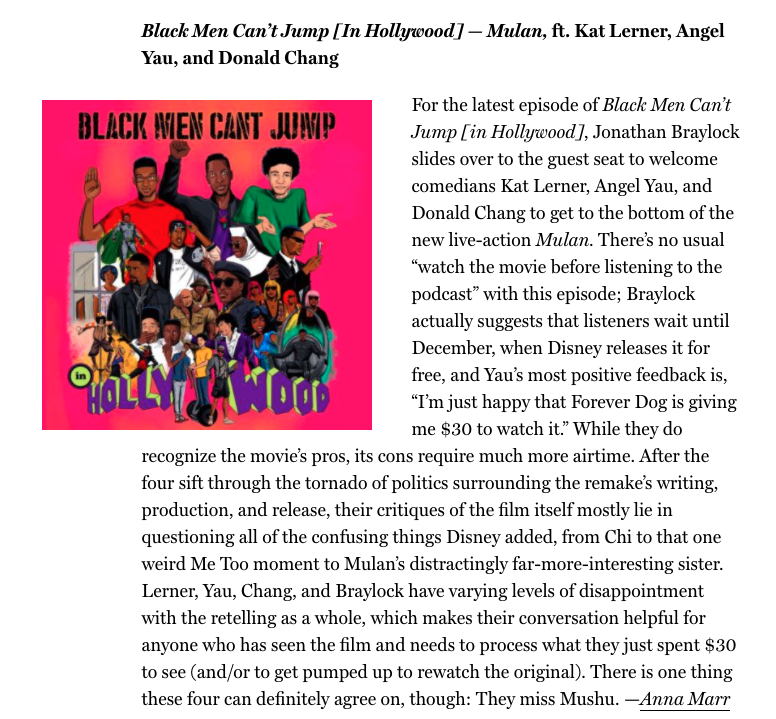 Vulture write up:
https://www.vulture.com/2020/09/this-week-in-comedy-podcasts-our-josh-is-an-awesome-josh.html